2023 NGPC round 4 — Glen Helen
2023 Glen Helen NGPC Report — 
The 2023 AMA National Grand Prix Championship rolled into Glen Helen Raceway for the fourth round of the series. Recent rains (and more than a little snow) had everyone expecting epic conditions. In response to the wether, the hosting Prairie Dogs MC routed the racecourse almost entirely in the surrounding hills, with lap times in the mid-13-minute range for the pro's—a long course by GP standards. The conditions didn't disappoint, as there was minimal dust. However, some were surprised at how hard-packed the ridge-line terrain remained. And by the time the 90-minute pro race got underway, the course had roughened up considerably, making it pretty demanding conditions for the west-coast's elite riders.
Zach Bell – 3rd place Pro
The motocross gate was used to start the races all weekend, and as it dropped to release the thunderous pack of 450 pro riders, Zach Bell had a solid drive toward the front of the pack. Through the first turn, Bell slotted into fourth place before the riders disappeared up onto the ridges. As the riders came back into view to close out the first lap, Zach had moved into second place behind Ryan Surratt. Both riders were pushing a fast pace as Bell held Surratt within twenty seconds over the first two laps, with Dante Oliveira and Justin Hoeft not far behind.
On the third lap, Zach was overtaken by Oliveira, pushing him back to third, with Hoeft hot on his heels. Just before the pit stops, Hoeft was also able to make the move on Bell, but then had a spectacular crash right in front of pit row—fortunately, he was uninjured and able to finish. This moved the Zach back into third, with just a couple laps to go. The early-race pace of the top-four riders had been stellar, and had opened a sizable gap behind them. And over the closing stages, Zach maintained a strong ride and crossed the line in a comfortable third, taking his first podium finish this season.
Tyler Lynn – 5th place Pro
As the racers rocketed up the start straight, Tyler Lynn was toward the front of the pack. Through the Talladega first turn, he slotted into fifth place right behind his teammate. Lynn was slotted in sixth place as the riders came off the ridges and into view for the first time. However, the Kawasaki rider was dealing with some tightness, which slowed his pace through the next couple laps. Tyler dropped as far as eleventh at one point, but was able to stay right on the heels of the main pack of riders as he began to loosen up.
With just over thirty minutes to go, Tyler was able to leap over Tallon LaFountaine in the pit rotations. He then moved to ninth when Hoeft crashed. From there, Lynn picked up a spot as Cole Martinez pulled out. Then he really found his groove and moved past both Trevor Stewart and Dalton Shirey with just under two laps to go. Austin Walton and Mateo Oliveira were running fourth and fifth, respectively, just twenty seconds ahead of Tyler as the white flag came out. Lynn put in a massive effort, catching both riders with about a third of the lap to go. Unfortunately, as the Kawasaki pilot was sizing up a pass on Oliveira, Mateo turned down early to avoid a lapped rider in a right-hand corner. Lynn was committed to his line and couldn't avoid Mateo's rear wheel; he clipped it and fell to the ground. Tyler picked his bike up and got back going, maintaining sixth place to the checkers. Later, after a post-race penalty was assessed to another rider, Tyler was moved up to fifth place, officially.
Robby Bell, Team Manager
"Overall, a really good day for the team. Zach got up front early and his pace was really good. He, then, managed the race well through the middle, definitely benefitting from Hoeft's wild get-off. From there, he showed strength and held good speed late in the race, on a pretty brutal course in its own right, to take his first podium of the season. I know it meant a lot to him to get back on the box for the first time since his return to racing. It's been a long, extremely difficult road for him to get back to this point, and I was so happy to watch him earn it.
"Tyler had that early-race tightness, which set him back some after a good start. However, though he lost positions, he was able to manage it pretty well in that he didn't fade much more than thirty-seconds behind the top-five riders. Then, he hit that beast mode over the last couple laps and felt he had a shot at fourth place before hitting Mateo's rear wheel. So, on the whole, a good ride and I'll be looking for him to carry that beast-mode over to two-hours at Havasu WORCS next weekend."
Photos
Credit: Mad Moose Media & Mark Kariya
Zach Bell
Tyler Lynn
Results
Click the link to view results:
View more results by clicking here to visit the NGPCscoring site.
2023 NGPC Schedule
Jan. 14/15 • Delano, CA √
Feb. 4/5 • Taft, CA √
Feb 18/19 • Blythe, CA √
Mar. 4/5 • Devore, CA √
Apr. 1/2 • 29 Palm, CA
Apr. 22-24 • Primm, UT
May 20/21• Delta, UT
Aug. 19/20 • Preston, ID
Sep. 30/Oct. 1 • Ridgecrest, CA
Oct. 14/15 • Lake Havasu, AZ
Team Supporters

Click Here to view and learn more about the companies our race team partners with.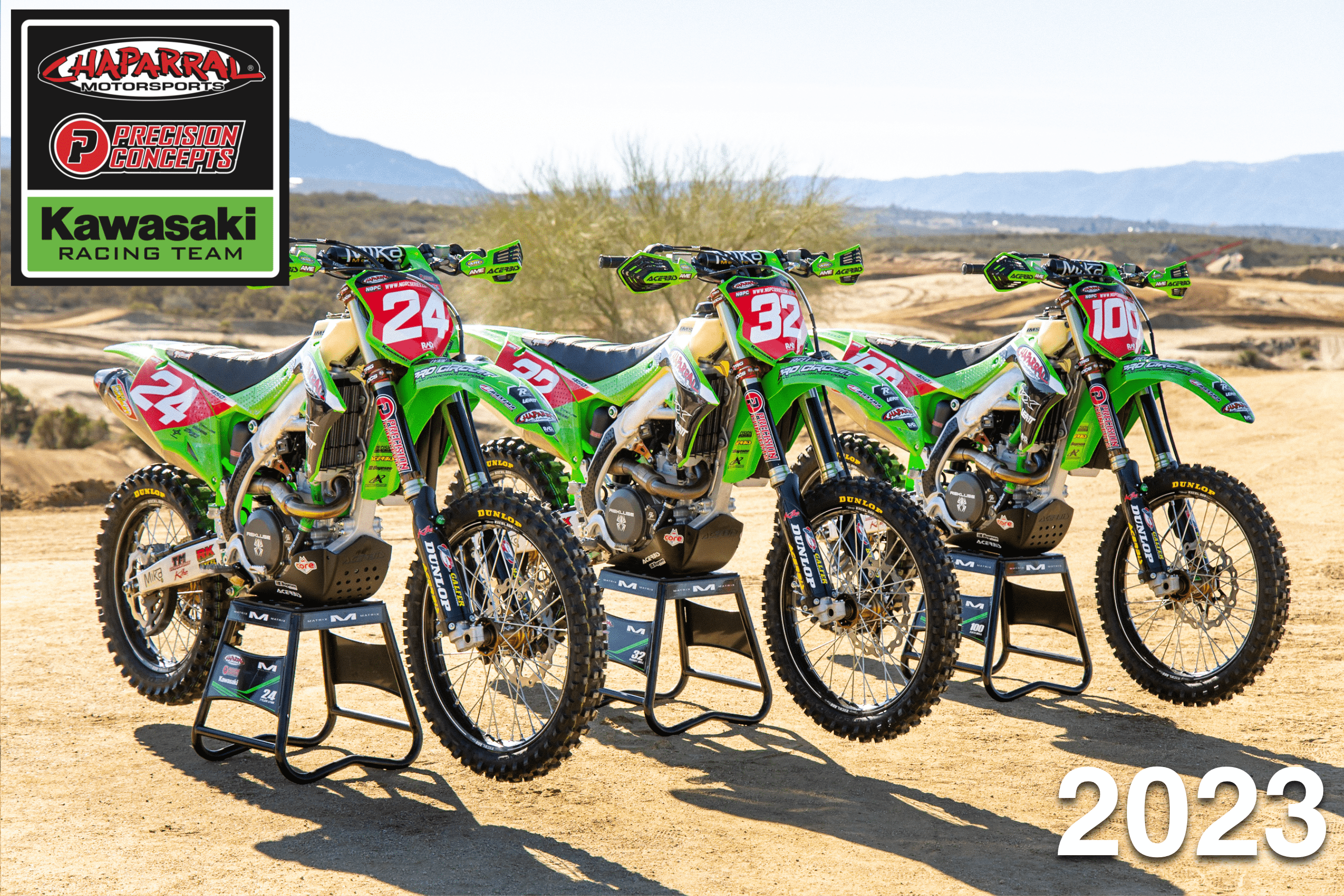 Click Here to view Race Team eBook and learn more about the parts we use to build our rider's race bikes.