A Thorough Refresh To Keep Your Suspension Handling Like New
Our Suspension Service is designed as a thorough inspection, cleaning and updating of your suspension to refresh the action of your motorcycle and keep your bike handling predictably. As a general rule, it is recommended to service your suspension after 20-30 hours of riding. Scroll down for more detailed information.
Beginning at $129*
*Fluid and replacement parts extra. Forks and shock priced separately. Call today to schedule your Service! (951) 697-8488.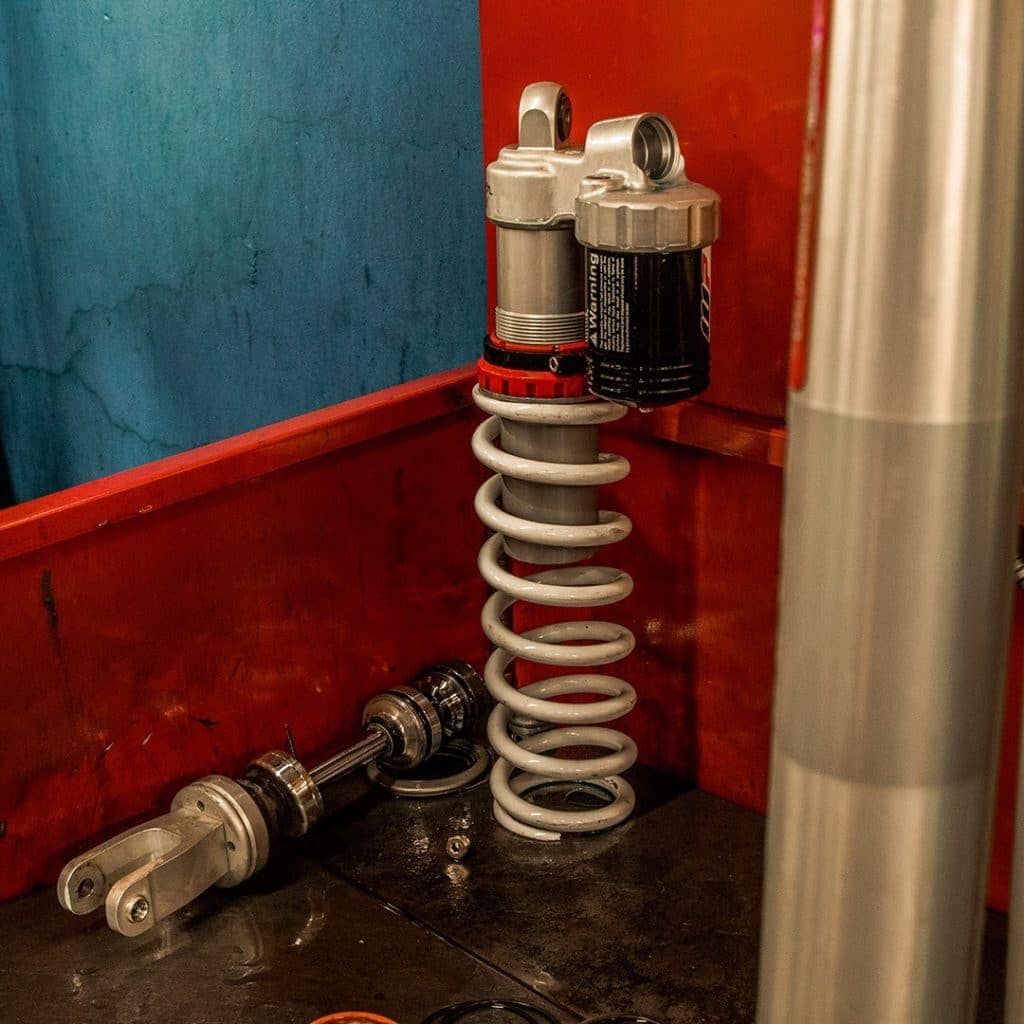 Benefits of Our Suspension Service
Maintain Handling Character

The action of your suspension working while you're riding creates heat and friction, which fatigues internal parts and breaks down the oil over time. Servicing the suspension regularly refreshes the internal parts to prevent fading and keep your bike handling consistently.

Thorough Inspection

Once disassembled, the internal parts are thoroughly inspected for any abnormal or excess wear. Any standard parts are replaced and anything beyond the conventional is brought to your attention so, if needed, a joint decision can be made on how best to proceed.

Polishing and Detailing

The fork tube lowers and/or shock shaft are polished to remove any nicks or burrs. Any fatigued valve shims are replaced to prevent long-term failure or fade. The highest quality seals and oils, continually tested and proven by our in-house Factory-supported race team, are used upon reassembly.

Valving Updates Included*

If you've had our Suspension Revalve performed to your suspension* and we've come up with any performance updates through continued testing, we'll install the updates at the time of your service. Additionally, if your skill, speed, or weight has changed since the last revalve, and you'd like updates to your bike's handling, the updates are performed during a service.
Additional Info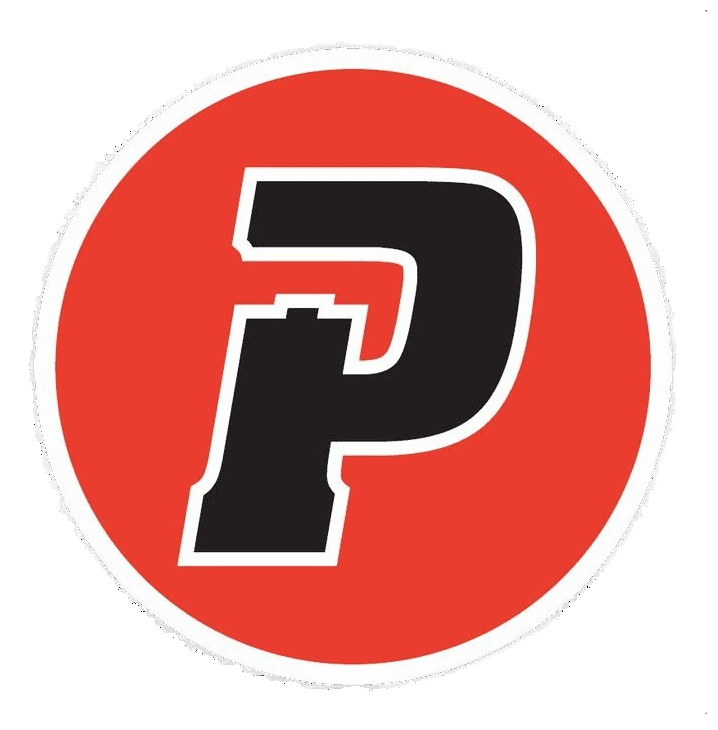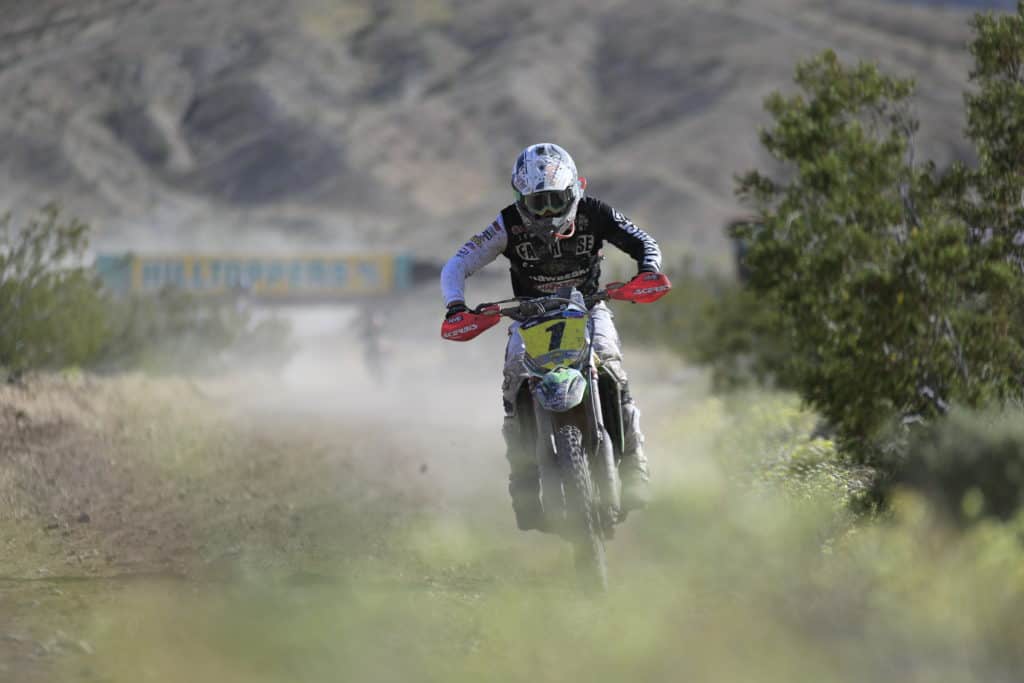 Once you give us a call—(951) 697-8488—we'll get your Suspension Service scheduled and give you and estimated completion date. If you're dropping off your suspension, we'll collect any further information we need form you at that time. We also offer a suspension removal and remounting service, if you'd like to bring in your bike. If you're shipping your suspension and we need any additional information, we'll give you a call.
CLICK HERE to view our Shipping Info page.
Once we've disassembled your suspension, we'll contact you if we see anything abnormal, or beyond the scope of a standard service, to keep you informed and for input should any decisions need to be made regarding additional work. Once your suspension is done, we'll call you to confirm and you can get back to ripping up the track or trails!
Servicing your suspension is important to maintaining your ride quality and keeping a consistent handling character. In addition, it prevents excessive wear of your suspension's internal components.
The action of your suspension working while you're riding creates heat and friction. This combination causes certain parts to fatigue and wear out over time. Additionally, the oil starts to break down, which leads to further wear because it loses ideal lubricating properties. This wear and tear is a normal result of riding your motorcycle. However, without regular service, excessive wear and oil degradation will cause your suspension to lose its original handling character. Your suspension may begin feeling softer and react less predictably than when it was fresh.
Therefore, having your forks and shock serviced regularly will maintain the original character and damping of your suspension. To emphasize, it will keep the handling of your bike consistent and help you feel more confident when you're riding.
At Precision Concepts, our suspension service is a refresh of our client's forks and shock to get the performance and damping back to optimum. To explain, our service includes complete disassembly of the suspension. We then clean everything and inspect all of the parts for wear and damage. Next, the fork tube lowers and shock shaft are polished to remove any nicks or burrs. Any worn parts, seals, or fatigued valving shims are replaced. The suspension is then reassembled using OEM parts and high-quality oils.
Our recommended service interval for a serious racer, or someone who wants the most consistent performance out of their bike's handling, is every 15-20 hours of riding. However, if you're a more casual rider, having your suspension serviced every 30-40 hours should be adequate. Also, bear in mind that excessive storage time causes breakdown of the oil and seals as well. As a result of stagnation, the seals and rubber internal parts can stiffen and crack. This can lead to blown seals, loss of oil and changes in damping. Lastly, when you service your suspension can be determined by the feel of your motorcycle while riding. Though it's more difficult to feel a gradual fade of your bike's handling over time, if you find that your suspension just doesn't quite feel the same—i.e. soft or "wallowy"—it may be time to bring it in to be refreshed.
If your suspension has already had our Revalve Service done (for you), and we've come up with improved settings for your bike, we'll update the valving for no additional cost at the time of your suspension service. Furthermore, we guarantee our Revalve Service for as long as you own your bike/suspension. This means that if you gain/lose weight, increase your skill and/or speed, change your preferred riding terrain, or have some other factor that requires updated valving specs, we'll perform the updates for no additional charge at the time of the service. To be clear, you only ever pay for our Revalve Service once for any set of suspension. We'll keep it updated and performing at its best for the cost of a service.