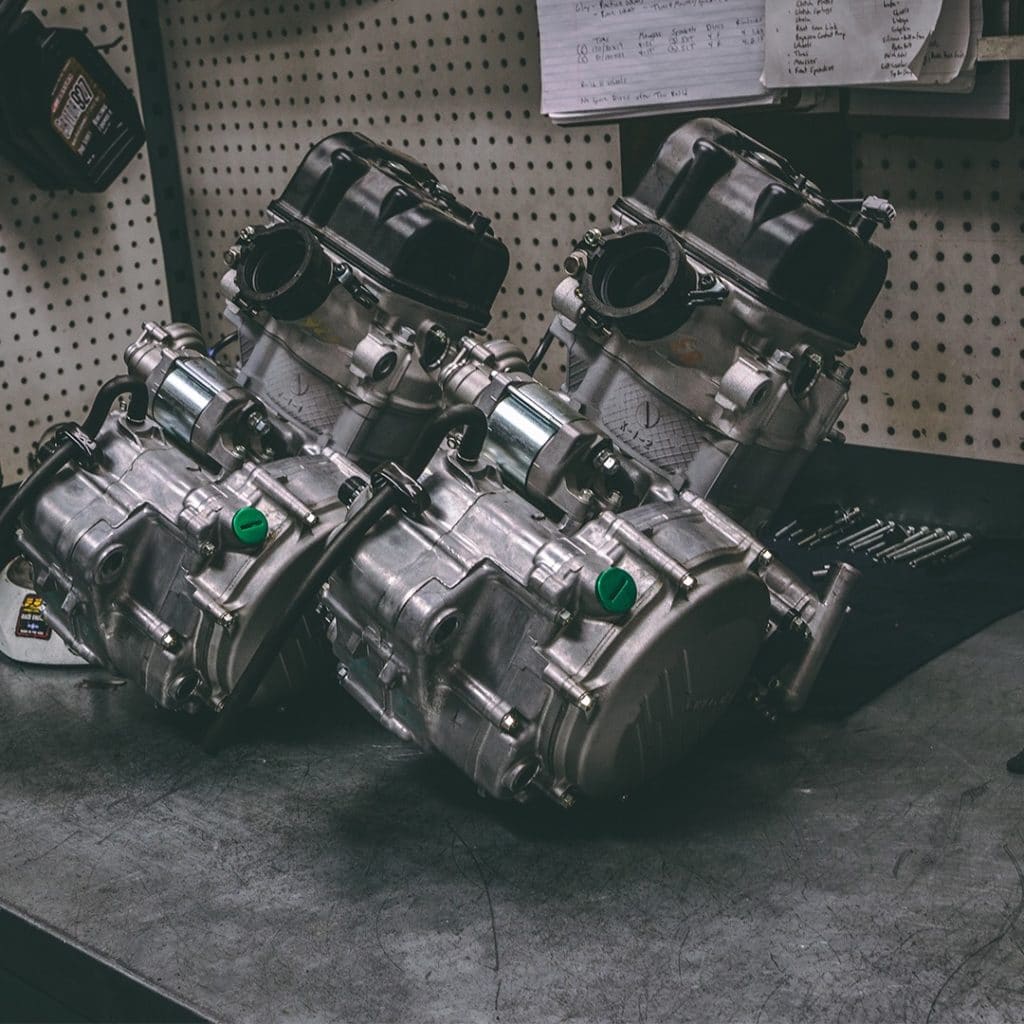 Built For Performance And Durability
At Precision Concepts, we have vast experience building engines for the most demanding conditions and riders. Through the rigors of the Baja 1000, or the heat-generating abuse of the 24-Hours of Glen Helen, we've learned what it takes to build a motor that will not only perform at the highest level, but maintain its reliability.
Our engine modifications are the result of working with the fastest racers in their respective disciplines. Through the years, riders like Johnny Campbell, Taylor Robert, Robby Bell, and Ricky Brabec have all helped to develop the techniques our mechanics use today. And the very same mechanics that build our in-house race team engines will perform the work on your motor.
We'll work with you to make sure you get the exact performance and durability you're looking for. We offer head porting, tumbling and micro-polishing of the internal metal parts to reduce heat and friction, and improve the power of your motor. To get even more out of your engine, we can offer a wide range of aftermarket parts, including exhaust systems, intake boots, high-performance cams, and more. Then, we will re-jet your carburetor or re-map you E.F.I. (Electronic Fuel Injection) box to match the modifications we've performed.
Contact us today to schedule your motor work and improve your engine's power and reliability - (951) 697-8488.
Top End Replacement

2-Stroke: Starting at $250*
4-Stroke: Starting at $450*

*Replacement parts are additional

Valve Adjustment

Starting at $129*

*Replacement parts are addioinal
Full Motor Rebuild

Starting at $600*
Moto removal from frame: $150*

*Replacement parts are additional

Oil Change

Starting at $40*

*Oil and oil filter are addioinal
CryoHeat Treatment

See Below. Call for more details.
Unleash The Full Potential Of Your Motor
Precision Concepts has a partnership with CryoHeat and now offers a cryogenic metal treatment for your motor. The treatment not only improves power, it increases the longevity immensely. This is because during original manufacture, most parts contain microscopic fractures in the metal. These not only trap heat, they can also lead to larger fractures over time, and eventual failure. The CryoHeat process allows the metal material to relax into its proper alignment. This releases any stored energy in the microscopic fractures and makes a more uniformed surface. The result is not only a stronger metal, but also less friction and stored heat, making for better longevity and performance. In action, this means a more powerful motor that runs freer and cooler, and will last longer than stock.
The process can be done to any metal item on your motorcycle. We have experience using the CryoHeat process on many internal and external parts on our in-house race bikes, including:
the motor (the internal parts and the cases, which gave us three extra mph top speed on our Baja race bike without any other modifications)
front and rear sprockets
chain
foot pegs
shift and brake levers
brake disks
brake pads
If you want more longevity and performance out of not only your motor, but many high-wear items on your motorcycle, consider trying the CryoHeat process today. Contact us for more details.