2023 NGPC round 7 — Delta, UT
2023 Delta NGPC Report — 
The seventh round of the NGPC series, the last NGPC before heading into the Summer break, took place this weekend in Delta, Utah. The hosting Bunkerhill MX track anchored a sandy, whooped-out course, which was on the shorter side, as far as lap times, compared to other circuits. Laps took the pro riders just over six-and-a-half minutes in length. Sunny skies and temperatures in the mid-80's added a physical aspect to the race, as the course roughened up quite a bit throughout the weekend, making the 90-minute pro race a demanding one.
Tyler Lynn – 3rd place Pro
Tyler had a good jump over the line at the start of the race, but found himself pinched off as the 450-pro pack headed into the first turn. Through the initial straights, Lynn slotted into tenth place. Over the first lap, the Kawasaki rider was quick to pick up a couple positions, climbing up to eighth. From there, Tyler methodically worked past a few more racers, moving into fifth place around the halfway point.
After the pit rotations, Tyler held down fifth place, with the Yamaha of Justin Hoeft around twenty seconds further ahead in fourth. Lynn found a solid groove and chipped away at the interval. Within a couple laps, Lynn's KX450X was right on the back wheel of Hoeft, and with just a few laps remaining, Tyler made the pass into fourth. Time was winding down, but Lynn was continuing his forward progress and had Honda's Ryan Surratt about twenty-five seconds up the track. Lynn dug deep and charged to within five seconds of Surratt as the white flag came out. With just a third of a lap to go, Tyler was able to make the pass stick to take over third place and earn his first NGPC podium finish of the 2023 season.
Zach Bell – 10th place Pro
As the pro riders rocketed up the start straight, Zach found himself pinched off pretty hard. Fortunately, Bell was able to sneak around the inside of the first turn and salvage eighth place as the riders strung out onto the initial straightaways. Like his teammate, Bell made a few quick moves on the first lap, moving up to sixth. Over the next two laps, the KX450X pilot made his way by Husqvarna's Dalton Shirey and Yamaha's Trevor Stewart, moving him into fourth place.
After moving into fourth, Zach's pace was good, as he was putting time into Husky's Austin Walton, who was about fifteen seconds up the course in third. Then, disaster struck Zach's race as a lapped rider came together with him. The contact sent Bell flying off his bike and into the desert. Zach remounted as quick as he could, but lost numerous spots and dropped back to ninth. Zach rallied and started moving forward once more, picking up a position just after the pit stops. However, in the contact with the lapped rider, the electronic wiring was damaged, and with a few laps to go, Zach's bike began experiencing stalling issues. The Kawasaki rider salvaged what he could over the final laps, doing well to hold on to a top-ten finish.
Robby Bell, Team Manager
"On the whole, it was a good weekend for our guys. Tyler did a good job managing his early race, methodically moving forward from tenth. After the pit stop, he hit beast mode and it was fun to watch him riding as well as he was, passing through the field with power. He put everything he had into the last few laps, and earned every bit of that podium finish.
"Though the end result wasn't there for Zach, there were quite a few positives to take from his weekend. His wrist was feeling stronger, and he said his fitness felt good. Plus, his pace when he got into fourth was matching the leaders. So, it was just a bummer that he had that incident, because he looked to be building into a solid result."
Photos
Credit: Mark Kariya
Zach Bell
Tyler Lynn
Results
Click the link to view results:
View more results by clicking here to visit the NGPCscoring site.
2023 NGPC Schedule
Jan. 14/15 • Delano, CA √
Feb. 4/5 • Taft, CA √
Feb 18/19 • Blythe, CA √
Mar. 4/5 • Devore, CA √
Apr. 1/2 • 29 Palms, CA √
Apr. 29/30 • Primm, NV √
May 20/21• Delta, UT √
Aug. 19/20 • Preston, ID
Sep. 30/Oct. 1 • Ridgecrest, CA
Oct. 14/15 • Lake Havasu, AZ
Team Supporters

Click Here to view and learn more about the companies our race team partners with.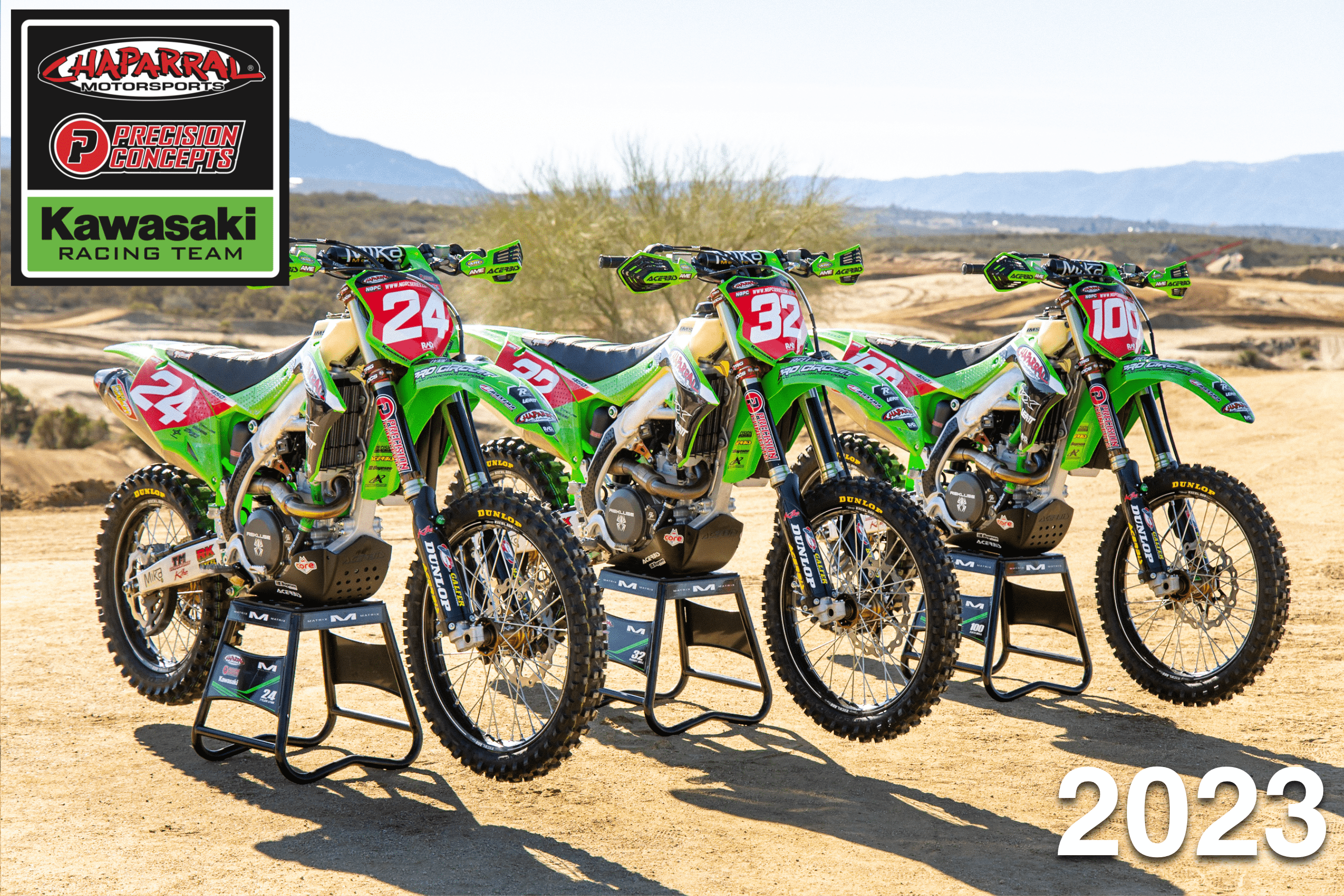 Click Here to view Race Team eBook and learn more about the parts we use to build our rider's race bikes.