2021 Havasu 2 WORCS Report — 
The 2021 WORCS series headed to the sandy peninsula of Lake Havasu City, AZ for the second time this year. The biggest difference from the wet and cold conditions of the first round in January would obviously be the weather. Though not viewed as hot, the mid-80's temperatures made for the first warmer weather of the season. This definitely took its toll on the field of riders, as it added to the physically demanding, sandy, whooped and chopped out terrain. Sunday's two-hour pro race would definitely lend itself to the toughest among the field.
Zach Bell – DNF Pro 450
When the flag flew to let the field of Pro 450 riders loose, Zach quickly rocketed off the line and into the lead. In a show of maturity, Bell then settled into his own pace in third, stalking Dante Oliveira and Cole Martinez. The three leaders stretched away from the field over the first thirty minutes of the race, with each rider blanketed by just over ten seconds. Through the forty-minute mark, Zach began to close back up to Martinez and apply pressure to retake the second spot. Unfortunately, Bell would then have a race-changing moment when he caught his foot awkwardly in the sand. Zach felt something crop up physically and fell back to fifth. From there, Bell gave it another lap to see if he could overcome the issue, but in the end felt it best to pull out and regroup for what's upcoming further into the season.
J.P. Alvarez – 5th place Pro 250
As the wave of Pro 250 racers rifled down the start straight, J.P. was slightly pinched and shuffled back in the pack. He did well to move forward past a few riders, rocketing up to fifth place on the first lap. From there, Alvarez found a good groove as he worked into the pace of the race. Right around the pit stop rotations, an hour into the event, Alvarez had a brief fall. As a consequence of the ceased momentum, J.P. felt a wave of heat hit him. The team did what they could to cool him down in the pits, but Alvarez was going to have his work cut out to maintain his position, as he suffered physically, with a field of fast riders in tow. Fortunately, J.P. was able to regroup and find a solid flow around the demanding course. He held on to a hard-earned fifth-place finish at the checkers.
Clay Hengeveld – DNS Pro 250
Following the Glen Helen NGPC a few weeks prior, Hengeveld had been managing a minor injury to his hand. Clay felt good enough to ride in Friday and Saturday's practice sessions at Havasu. However, after discussing with the team, everyone felt it best for Clay to continue to recover and not take the risk of aggravating the injury in such demanding conditions. Hengeveld will definitely have an eye on building back toward his best in two weeks time at the 29 Palms NGPC.
Robby Bell, Team Manager
"I think everyone felt the demanding conditions of that race. Two hours at Havasu is no joke. And while it wasn't 'hot', the first warm weather of the season always seems to carry some extra weight.
"Zach got off to a great start, and I feel he was playing the long game in finding a solid, smooth pace early-on. Unfortunately, we weren't able to see how his strategy would progress through the race and it's a bummer to have another obstacle pop up. But I know he's determined to get back to his best on a consistent basis and we're definitely here to support him in every way possible so he can get back to the top step of the podium routinely.
"Jake faced some serious adversity, feeling the way he did so early in the race. I feared he may struggle to maintain his position, let alone finish, as I've been in his shoes and know that pain intimately. I was impressed he was able to find a solid pace inside the pain cave and come away with a top-five. Hopefully he can improve on that in the races to come.
"Clay came into the weekend less than one-hundred percent, and we felt this wasn't the place to force it. He's no-doubt faced continual obstacles, but Clay has a tough will and I know he'll continue to fight to find his best form. I'm looking forward to these next couple weeks allowing him the time to get prepared for the string of three races in-a-row so he can get back on the trajectory of improvement."
Photos
Credit: Dirt Nation Magazine
Zach Bell
JP Alvarez
Clay Hengeveld
Results
Click the link to view results:
• Pro 450 Race Results
• Pro 250 Race Results
Standings
• Pro 450 Championship Standings
• Pro 250 Championship Standings
View more results by clicking here to visit the WORCS scoring site.
2021 WORCS Schedule
1. Jan 23-24 – Lake Havasu, AZ
2. Feb. 20-21 – Peoria, AZ
3. Mar. 27-28 – Lake Havasu, AZ
4. Apr. 17-18 – Taft, CA
5. Jun. 12-13 – Preston, ID
6. Sep. 11-12 – Wickenburg, AZ
7/8. Sep. 25-26 – Devore, CA (Double Round)
9. Oct. 23-24 – Mesquite, NV
10. Nov. 20-21 – Primm, NV
Team Supporters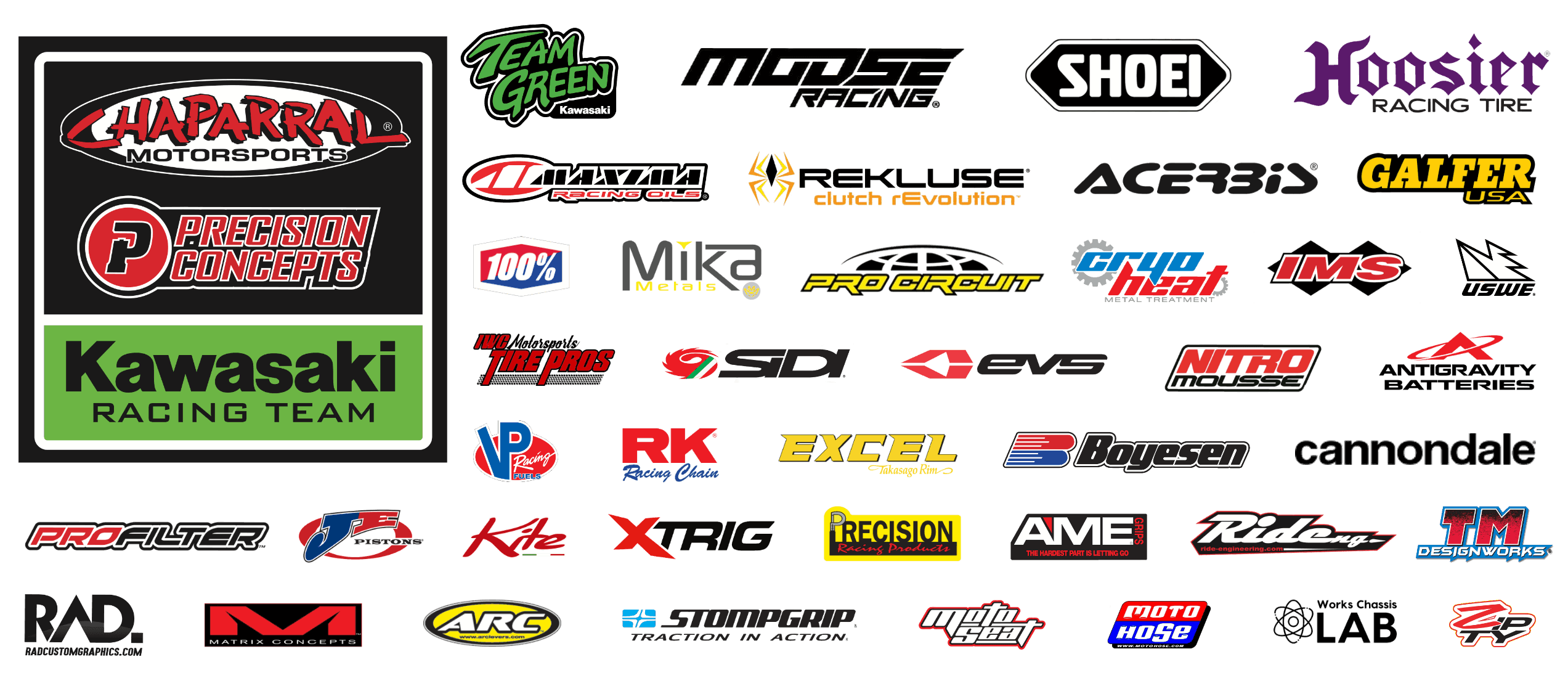 Click Here to view and learn more about the companies our race team partners with.
Click Here to view Race Team Catalog and learn more about the parts we use to build our rider's race bikes.