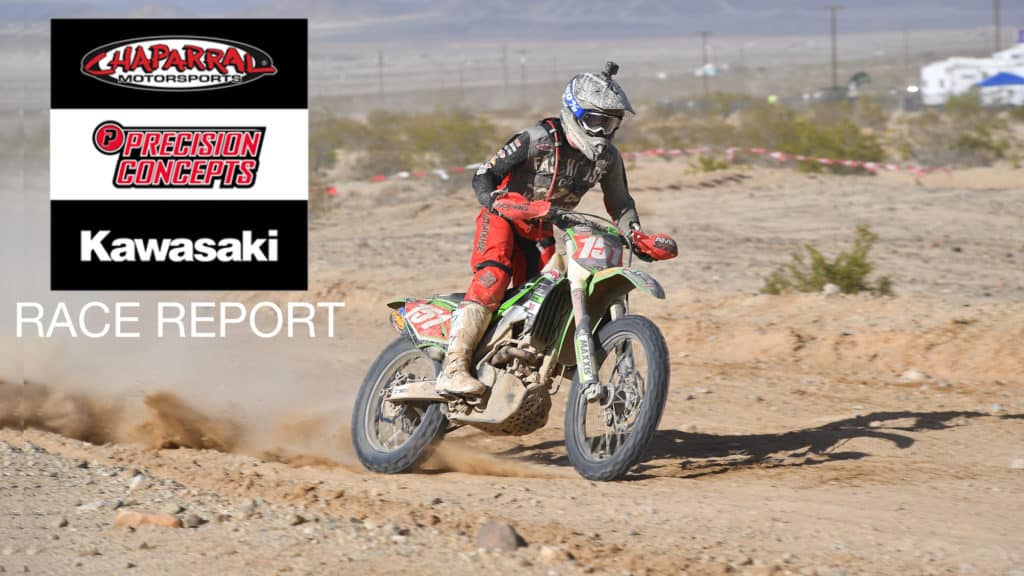 2018 29 Palms BIG 6 Report —
The fourth stop on the 2018 BIG 6 calendar was the 29 Palms GP. Presented by the Hilltoppers club, the 29 Palms racecourse offer high-speed terrain in abundance. In the WCGP pro class, Chaparral Motorsports, Precision Concepts, Kawasaki's Blayne Thompson finished a season's-best fourth. Justin Seeds also had a great ride, coming from just outside the top tenth to land in fifth. Meanwhile, in the WCGP pro 2 class, Clay Hengeveld got into the lead by lap two. Clay never looked back, taking the win by a comfortable margin. Lastly, Robby Bell continued his perfect season in the Vet class, taking a comfortable victory.
Blayne Thompson — 4th place Pro
While it was just shy of a podium finish, 29 Palms was the breakout ride Blayne has been building towards. After starting third, Blayne settled into a solid fourth place through most of the ninety-minute event. Late in the race, Blayne had been lulled into a pace all by himself. But then, as the white flag flew, he found another gear. Dropping his lap time by almost forty seconds, Thompson set the fastest time on the final lap. The effort closed him right up to the final podium position, and at the checkers he was just two seconds out of third place.
Said Blayne after the race, "If I just ride like that [last lap] the whole race, I'll be good! It was a pretty good day, a building block for the rest of the year. The best finish of the season so far. I like going fast, so I was having a blast out there. I saw Justin [Seeds catching late in the race], so I picked it up. But I had no idea Trevor [Stewart] was right ahead of me. Then the last half of the lap I saw Trevor right there. So, I just sent it and almost got him on the last lap. Still, I think we can do better. But I'm taking the positive and we'll come out swinging at all the rest of them."
Justin Seeds — 5th place Pro
Justin had a solid ride, putting in a big late-race push to finish fifth place. The race start looked good for Seeds until the first corner. Up to first turn, he was battling for a top-three start. However, the two leaders aimed straight toward a deep puddle on the inside. As a result, the entire field was covered in a wave of water, with Justin getting arguably the worst of it. Unfortunately, the water found its way in between all of his tear offs. Seeds was overtaken by numerous riders as he was forced to pull all of his tear offs in search for clear vision. After dropping to tenth, Justin put in a hard charge to reach fifth place by race end.
"I was pretty happy with my ride this time around," commented Justin. He continued, "I had a decent start until the first corner. Zach [Bell] and [Eric] Yorba hit a mud puddle, which ended up covering me in water and mud. Unfortunately, it basically destroyed my goggles and I couldn't see where I was going. I had to slow up and got passed by a lot of guys by the time I got [clear vision]. From there, I just started pushing. I knew I could put a fight in and charge towards the front. I was able to make it up to fifth and I could see third and fourth right ahead of me. Unfortunately, I think I used a little too much energy at the beginning of the race and threw the anchor out on the last lap. So, I lost a little bit of the tow of those guys. But, I'm happy with the performance. I feel a positive change from the things I'm doing off the bike and I'm pushing to get on that top podium spot soon."
Clay Hengeveld — 1st place Pro 2
The win marked Clay's third of the BIG 6 season. After starting up front, Hengeveld had a setback in the form of a fall on the first lap while challenging for the lead. He picked himself up in fifth and wasted little time getting back to the front. By the close of lap two, Clay had made his way all the way up to the top spot. Once he took the lead, he never allowed the rest of the field a chance as he pulled time every lap. At the checkers, Clay had built a lead of over three and a half minutes, also finishing an impressive seventh overall against the WCGP pro field.
Clay was happy with the finish, stating, "It felt great! We got off to a good start. But about halfway through the first lap I ended up falling and going down to around sixth. So, when I got back up I just put my head down and charged. I got into the lead on the second lap, pulled away as fast as I could and ended up with the win. It felt pretty good [getting seventh overall]. I've wanted to top-ten [against the WCGP Pro's] for a while. Now, I'll be looking to break the top five in the future. But coming into the weekend I had the points lead. My goal was to make that bigger. I'm very happy with that!"
Robby Bell — 1st place Vet AA
Robby showed up to the start of the vet race a little too fashionably late. With over thirty vet experts and AA's on a narrow starting line, the field would have to double up. By consequence, Bell would start on a staggered second row with numerous other racers. Robby was able to find a gap through the first couple corners and make his way inside the top ten. From there, he picked off riders one at a time to move into second place behind Purvine's Racing's Nick Burson. Nick had yet to practice on the course, which hurt him as he blew past a corner following the pavement section. This gave Robby the lead, which he never relinquished, taking the victory by nearly two and a half minutes.
"Honestly I just didn't want to get roosted!" commented Robby on getting into the lead quickly. "Everyone knows the roost here is awful. When I rolled up to a full starting line, all I wanted to do was get up front. Luckily, a gap opened up in the first turn and I was able to get inside the top ten. Then, I got by a few more riders up to second behind [Nick] Burson. Unfortunately for Nick, that corner after the asphalt straight came up quickly. I wasn't complaining when he ran wide, though. It gave me a clear track and from there I was able to really enjoy the course. The best part about this track is picking flowing lines and keeping momentum. When you link your lines together and keep that third and fourth gear momentum through the corners, that's a great feeling."
2018 Havasu WORCS Results
Pro
1. Zach Bell
2. Dalton Shirey
3. Trevor Stewart
4. Blayne Thompson
5. Justin Seeds
Pro 2
1. Clay Hengeveld
2. Trevor Hunter
3. Chance Fullerton
4. Beau Baron
5. Preston Campbell
CLICK HERE to view full results.
GoPro Footage
Photo Gallery
Team Supporters