2021 Mesquite NGPC Report —
Following the conclusion of a very brief off-season break, racers made the trek out to Mesquite, NV for the opening round of the 2021 AMA National Grand Prix championship. The promoters had to make a quick pivot from the originally planned location of Delano, CA. After Delano didn't pan out as a viable location, Mesquite MX Park stepped up to host the round. So, instead of rolling, central-California clay hills, the racers prepared for ninety minutes of deep sand whoops.
The course turned out to be a good mixture of the more clay-based motocross and infield sections. Then, the track headed out to the deep sand, where rows of deep whoops and sharp chop awaited participants. Temperatures were pretty mild, which aided conditions, so dust wasn't a factor and the riders could truly race for the entirety of the course.
Zach Bell – 4th place Pro
Entering the 2021 season, Zach's off-season preparation was less than ideal. Still, Bell always has the speed to run at the front of the pro class and looked to get the year started off on a positive note. As the gate dropped for the pro final on Sunday, Bell slotted into second place behind reigning series champion Dante Oliveira. Over the first couple laps, Zach shadowed Oliveira, just a handful of seconds behind. Then, around the third lap, Bell suffered an untimely fall as he clipped a rock in the sand, which sent him off track and into the bushes.
After remounting, Zach found himself in fifth place, but quickly set to work catching the riders ahead. Following the pit stops, Zach was closing in on third place, with second just twenty-odd seconds further up the course. Unfortunately, Bell would then have another issue when a lapped rider moved over on him. In an attempt to avoid hitting the rider, Zach clipped a rock and fell on the side of a hill. The time lost in remounting cost any shot at the podium, but Zach was able to salvage a solid fourth place to start the season.
In His Own Words
"The race started off well. But I ended up crashing pretty good around the third lap and lost a lot of time. I tried to regroup after the hour mark and got back to fourth. I was right there behind Justin Hoeft [who was running third] and I got taken out going up the pro section uphill. It was like three laps to go and I was pretty close to third [before the crash]. But that took the wind out of me, trying to get the bike back up on the side of the hill. So after that, I just rode it in. Today was one of my first times on the bike since Havasu last year. I had a surgery in between. So, overall, it was a good day. I wasn't expecting too much. Just wanted to get out there and get some points. I'm pretty frustrated with the crash, because I think I could have been up there farther. But overall I'm pretty happy and just need to build."
JP Alvarez – 7th place Pro 2
Alvarez entered the weekend fired up and ready to battle up front aboard his KX250X. Unfortunately, his first lap couldn't have been much tougher on him. J.P. wheelied off the grated starting gate, which forced him to shut it down slightly and relegated him to mid-pack. While pushing forward on the first lap, Alvarez then came together with another rider, which sent him to the ground—and last place in class. After getting going, J.P. came around the first lap in twenty-first position, in a deeply talented field. In a show of effort and speed, the Kawasaki rider pushed his way forward through the pack, climbing up to sixth position by the hour mark. From there, J.P. was closing in on the top-five and found himself just ten seconds behind fifth place with time winding down. Alvarez pushed to try to close the gap, but unfortunately went down in the process. Though the crash took the rest of his energy, J.P. was able to rescue a top-ten finish, crossing the line in seventh.
In His Own Words
"I got a pretty bad start, so I knew what I needed to do: just charge up to the front as quick as possible. But unfortunately another rider took me out on the first lap and I was dead last. I got going and tried to keep telling myself to ride my own race. I felt really good and felt really comfortable pushing hard on my KX250X. But then I think that last lap I just hit that [physical] wall and basically bonked. Then I went down, over the bars, and just had to tip-toe it in to the finish. I'm definitely a little sore, but I'll just get iced up and get ready for [WORCS] next weekend."
Clay Hengeveld – DNF Pro 2
Though he wheelied slightly off the starting grate, Clay was able to rescue a top-ten position through the first few corners. As the riders came in off the first lap, Hengeveld had moved up to sixth place and was within striking distance of the top-five. He paced right there over the next lap-and-a-half. But regrettably, tragedy struck his race on the third lap. Clay slightly over-jumped a double and landed in a hole. When that happened, he felt an issue in his shoulder. The KX250X-mounted rider tried to work through the issue, but then came back to the pits and called it a day early.
In His Own Words
"Coming into the new year, I'd been feeling really good on the KX250X. I was running around sixth today and feeling really good on the bike. Then, I just had a little issue with my shoulder and pulled off. Honestly, I regret pulling out, but it was what I felt I needed to do in the moment. Overall, I felt like I had a great start to the day. I'm definitely going to keep working and getting stronger and stronger. I know what I need to do and I'm feeling really confident and comfortable with the bike. So, there are good positives from the weekend for me and I'll be back strong."
Robby Bell, Team Manager
"To start, I appreciate the work the NGPC crew and Mesquite MX staff did to get this event off with the tenth-hour change of location. For Zach, we just wanted to see where he's at this weekend. His speed was good, and he was a small misfortune away from a podium. Honestly, fourth is a solid start to the season. So, if he can build into some form over the next month, he's in a decent spot.
"Our 250-boys had a rough one today. When J.P. came around in the twenties, I knew a top-five would be tough. The 250 class is deep this year. But Jake put in a lot of effort and got so close to fifth. It was a bummer he fell on that last lap, but I can't fault the effort. It was a really good ride.
"Clay's been feeling more and more confident, and I know he was excited to get the season going. His pace was good and I was eager to see if his strength and fitness could get him further inside the top-five. Unfortunately, we didn't get to see that. But I'm glad he feels like he has a solid plan to manage his shoulder and he should be back and strong next weekend at Havasu WORCS."
2021 Mesquite NGPC Results
Click the link to view results:
• Pro Race Results
• Pro 2 Race Results
Standings
• Pro Championship Standings
• Pro 2 Championship Standings
View more results by clicking here to visit the NGPC scoring site.
2021 Mesquite NGPC Photos
Credit: Mark Kariya
Team Supporters
Click Here to view and learn more about the companies our race team partners with.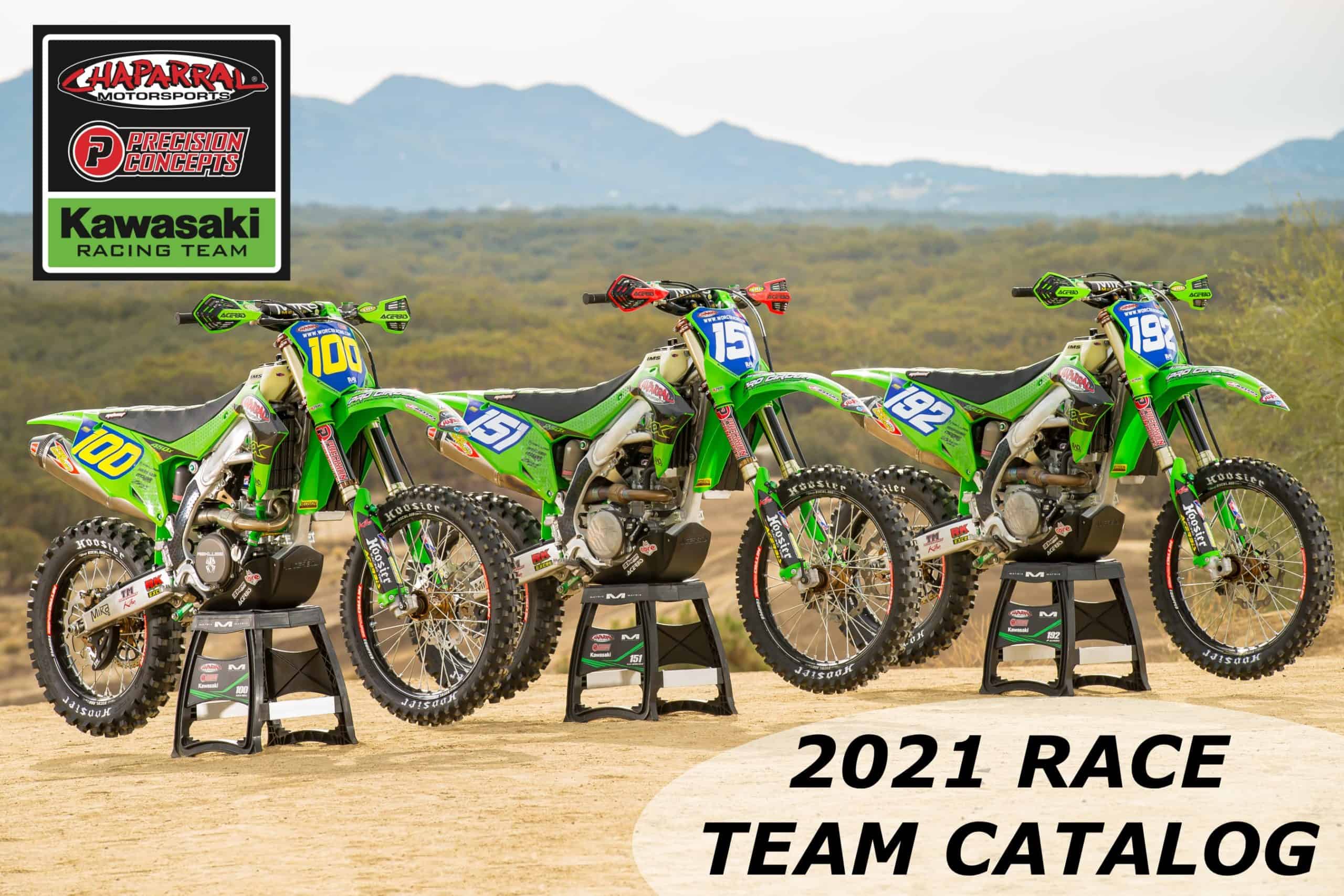 Click Here to view Race Team Catalog and learn more about the parts we use to build our rider's race bikes.